The change in lifestyle in recent years has had a clear influence on the way we manage our domestic spaces. In fact, since the home is no longer just the evening meeting place after work, attention to detail has also invested spaces that were previously exempt. So think about how bathroom furniture may have been influenced by this design revolution, and the consequences on the relative market; in the article, the MBK survey.
When it comes to choosing furnishings for a home, some rooms tend to be more functional than aesthetic; this is the case with bathroom furniture, which has always been the victim of hasty choices at the end of a job, or of daring architectural leaps towards a sort of "segregation".
However, since domestic walls have also become a place of work, and since the well-being of home life has taken on a more introspective dimension, the choices of bathroom furnishings have also adapted, and with them the market they represent. MBK Fincom, based on its own sales analysis of recent times, and on industry research tools, has compiled a list of trends in the segment, as well as a small overview of the reference market.
The trend study
Since this is a very specific segment, it was necessary to work on a more compact amount of data, but not for this reason easier; in fact, although analysing small data is a more refined and functional way of marketing this kind of niche, it requires considerable selection and focusing skills on the part of the analytics team.
The main change has undoubtedly been the increase in demand through eCommerce; while bathroom furniture (and furnishings in general) has always been a segment that required 'proof of touch', today many more buyers are choosing online as their first purchase channel.
Environmental revolutions
Impactful have been the habitual changes in terms of quality of life; due to post-pandemic extended home stays, and the development of new work dynamics, all domestic environments have begun to breathe a multifunctional dimension.
The home in general has been transformed from a simple dwelling to a place of work, a family space, a centre for one's own well-being, a dining/sports area. Even a space such as the bathroom, incorporating functions that used to be found in a wellness centre, has been affected by the revolution in environments; suffice it to say that while the market is expected to grow by around 5% per year, the sector, in a state of emergency, has seen growth of a good 2 percentage points higher.
The growth has also been influenced by a "clearance" of design bathroom furniture, previously the preserve of a few luxury brands, to a more widespread market; choosing accessories and sanitary ware at a price closer to the average consumer is now easier, also thanks to eCommerce that, as in the case of ProduceShop, have decided to invest in a sector that could have been risky, increasing the buzz and growing an interesting slice of the segment.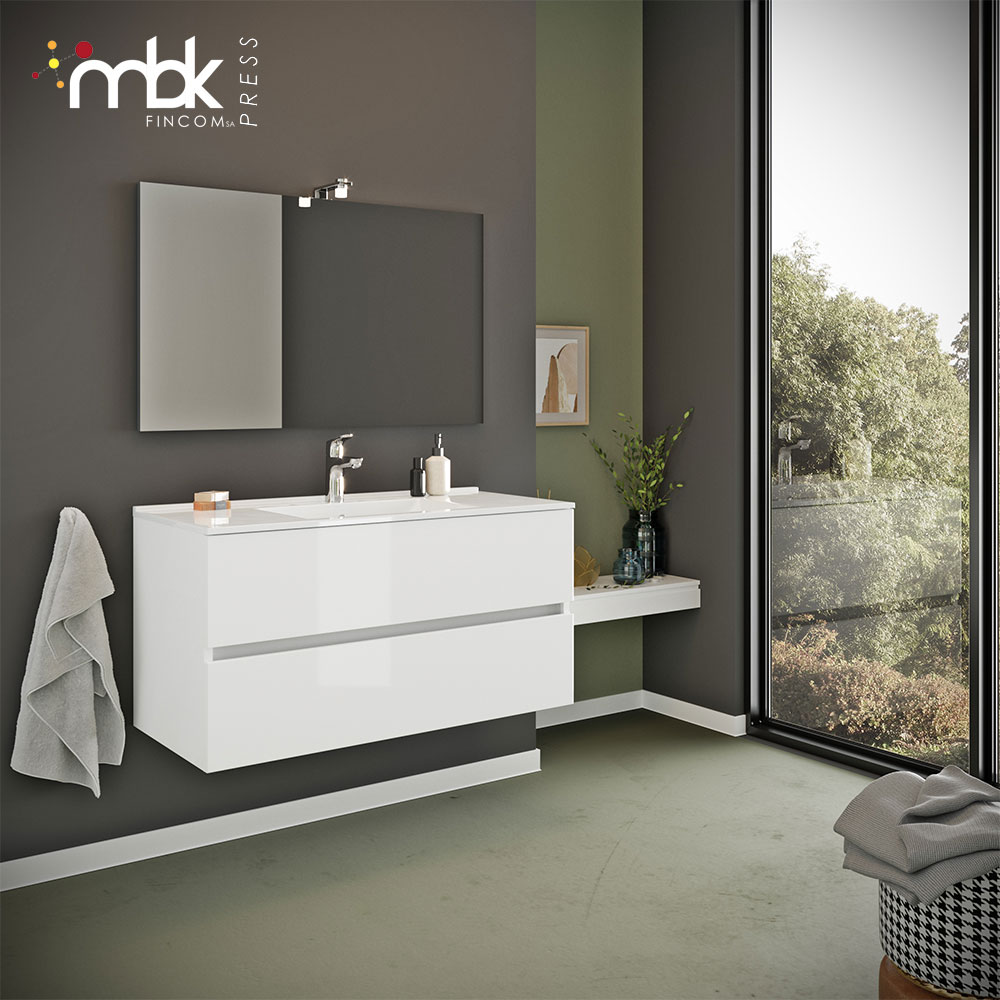 Hype trends in the designer bathroom sector
An exhaustive list of the trends that have been confirmed as primary in marketing research in the sector:
Minimal style: the essential style, based on a few lines (but good ones), is increasingly gaining ground in the segment's choices. No more frills and arabesque designs; instead, Nordic themes, reduced to the root of aesthetic beauty, as if to relax the eyes of those who rely on the bathroom as a relaxing environment;
Wood and nature: there is an increasing demand for wood furnishings (preferably FSC-certified, even better if recycled), which can be perfectly matched to the current colour solutions in the masonry theme. Greenery is also on the rise, with plants and pots even where they were previously scarce;
Suspended furniture: the need for space also meets the convenience of quick cleaning in this type of furniture. Suspended bathroom furniture is gaining ground against floor-standing solutions; it gives an idea of openness and breathing space more in line with the general sentiment of these trends;
Neutral colours and material effects: in previous decades some bathrooms, and their furniture, often featured bright colours or bold contrasts. Today neutral, satin-finished tones, with a predominance of white and grey, and several examples of black (anthracite), are all the rage. Interesting, and in line with the textures of stone or wood, is the revival of sandy tones,; beige or dove grey are being confirmed as the colours of the moment;
Shower plate flush with the floor: we move from the shower cubicle to the shower room/corner. In this way, the very idea of a raised shower tray is displaced in favour of modern shower plates; slimmer design, and at floor level, often invisible, with just a drainage hole (often camouflaged);
Modern shower columns: it goes without saying that, in a shower enclosure that respects the contemporary design dictates described, a shower column must be at the same level. The most popular models at the moment are simple in their lines but extremely sophisticated in their equipment; double, triple and diversified jets (rain, classic, waterfall), state-of-the-art mixers, features such as integrated BT speakers and LED lights;
Freestanding bathtub: after losing its "authority", first due to built-in bathtubs, then to showers, today the freestanding bathtub has a place of honour in homes where design furniture is the main matrix. The most sought-after models in the trend are certainly those that are geometrically linear, clean and simple, often recalling Japanese models (ofuro). It is not uncommon to see them outside the bathroom, for example in open-plan bedrooms with a modern feel.
In conclusion
Even a room like the bathroom today requires more attention to detail, and a more personal expression in the choice of design furniture.
Carefully evaluating the trend helps the distributor in his choice of product, no doubt; it is also an interesting resource for the consumer who wants to give this multifunctional space a completely different idea from the classic toilet.
Sources:
Corporate PR
Produceshop Marketing Dept. (https://mbkfincom.com)
Shopify
DataBridge Market Research
BauTrust
Living – Il Corriere della Sera
SemRush
Marktforschung.de
GoodHouseKeeping